Description
The social security system in France
(Please note that information may change depending on the regulations in force when you arrive in France.)
In this section you will find information about:
The social security system in France is known in French as la Sécurité sociale or la Sécu. The health insurance branch of the Sécurité sociale is called Assurance maladie.
It is mandatory for all residents in France to have health insurance covering all or part of their health costs.
France's universal health care system (PUMa) guarantees coverage of healthcare expenses for all individuals who exercise a professional activity or have been residing in France on a stable and ongoing basis for at least 3 months.
The French health insurance system covers reimbursement of healthcare costs for insurees and their minor dependents who are their beneficiaries (« ayant droits »).
The social security system in France is publicly funded by taxation and through social security contributions made by employees and employers.
On average the basic health Insurance provided by the French social security system reimburses 70% of medical expenses (medical visits, medication and surgical procedures). It is therefore advisable to take out an additional health insurance, called a mutuelle to top up the reimbursements of medical expenses for example for glasses or dental care.
Each affiliated member of the French Social security system has their own social security number. Since January 2016, adults can no longer be considered beneficiaries even if they are not in employment. Only minors can be beneficiaries up to September 30th of the year in which they turn 18 provided that they are not employed.
Registration to the French social security system is free and mandatory for all students in France, whatever their age.
The French social security system is basically a number of statutory schemes:
The compulsory general scheme which covers most employees and certain other categories (students, beneficiaries of certain benefits that have progressively come under the general scheme).
Various "specific" schemes covering categories such as farming and special schemes which cover civil servants, military personnel and other workers from the public sector such as SNCF, EDF-GDF etc …
For more information, please consult the website of the CLEISS (Centre of European and International Liaisons for Social Security), in particular the webpages dedicated to sickness insurance and accidents-at-work and occupational-diseases branch.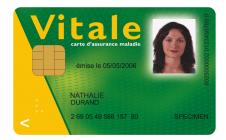 To register for membership in the French social security system, you need to submit an application to the CPAM (Caisse Primaire d'Assurance Maladie) – the health insurance fund.
The procedures vary depending on your personal and professionalstatus and on your country of origin.
Access to care